Outdoor Fun!
Outdoor play is a wonderful sensory experience for children, including your youngest. Exploring the backyard, nearby woods, and gardens opens a whole new world of wonders for young children.
Your cozily bundled baby can even take a nap outside while you plant or weed the gardens, and get some outside fresh air yourself!
Here's a good article by Scholastic, too: Infants and Toddlers: Let's Go Outside >> https://www.scholastic.com/…/infants-toddlers-lets-go-outs…/
Simple JOYs of Sunshine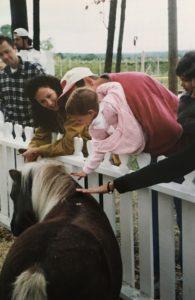 It's so much fun to share the sunshine and outdoors with your little one(s). Whether it's visiting local farms to see the newest baby animal arrivals or exploring your backyard to spot friendly creatures or walk about, getting outside helps us find calm as well as a sense of wonder and hope.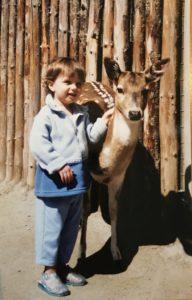 Gardening with your little ones
Did you know that scientific studies show that when children have contact with soil during activities like digging and planting, they have improved moods, better learning experiences and decreased anxiety?
You don't need a formal garden or big backyard, even a container garden can be fun!
What are the easiest, hardy plants to grow? Start with nasturtiums, wooly lambs ear or marigolds.
Here are a few links and tips to other ideas:
And, if you have an interest in composting, join Milford Thrives' Compost Challenge! Click here to learn more.
"Quality connection" moments
During this time of social distancing and being home-bound, it can be challenging for parents to feel like they have to "do it all." The good news is: you DON'T have to!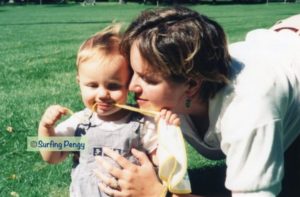 I've spoken with so many parents that are trying to do their jobs online from home, while overseeing their school-aged children's remote learning, and also aiming to be Supermom and Superdad with the little ones whose childcare and preschool have been suspended… Breathe and just be you! We're all doing the best we can.
The number one thing your child(ren) needs from you at this time: to feel connected and loved. And feeling connected and loved does NOT require your undivided attention 24/7…it's about quality connection.
Whatever rhythm you adopt for your household, carve out some quality moments here and there to truly connect with your child.
A morning snuggle can get everyone off to a good start
Story hour mid-afternoon in the "story tent" can include children of all ages (in fact, older brother or sister can take turns telling the story on your busy days :))
(A story tent can be as easy as a blanket over the kitchen table…)
Afternoon tea (and maybe a coffee for you!) provides a check in moment and a breather
Study break! Spring weather is just around the corner…sneak outside for some sunshine "kisses" and fresh air before tackling the next project or chore
At the end of the day when you can't even think about getting dinner ready…what can your children do to help? And how might it be fun?

Maybe your littlest ones can help "stir" (in their magical mixing bowls)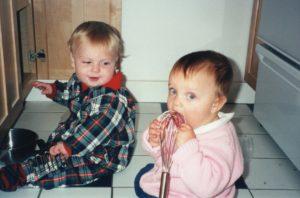 Ask your Kindergartener to find a flower or special stone to decorate the table
Ask one of your kids to decide on the dinner music… what's their favorite song?

And don't forget to LAUGH! Laughter truly is the best medicine and you'll help your children find joy in the simplest moments. A smile and a giggle can be so healing during this stressful time.
For more parenting tips and tricks and to hear from other parents, be sure to visit our Parenting Corner.
Register for your chance to win!
Register
for your chance to win a $50 Target gift card. Every month, Milford Thrives holds its "early years"
*
Target gift card giveaway.
*

Milford, NH families with children ages birth to 5 years are eligible to enter

*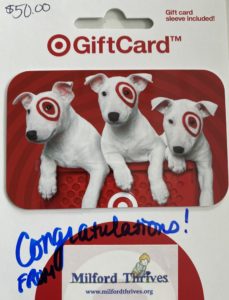 ---
Curbside service from Wadleigh Library
The library continues to offer curbside service and story bundles for little ones (subjects/focus change weekly).
Click here for more information about their latest offerings like Baby lapsit and Parent Chat on Zoom Friday mornings.
Visit Wadleigh's website or Facebook page for more information. Or call 249-0645 to request a curbside pickup.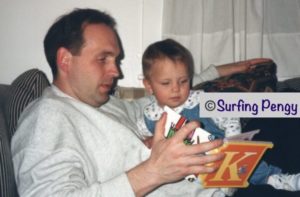 Visit Wadleigh Memorial Library's youtube channel for the latest "virtual" story times. Here are links to recent Baby Lapsit time as well as other read alouds:
Milford Recreation events
Keep an eye on Milford Recreation's calendar for the latest events and family fun activities.
Visit us on Facebook for daily updates on Milford community resources and events.
Fun with Animals!
Beyond the pure joy spread by our furry friends, the attention children feel from animals helps to boost their self confidence and reduce stress and anxiety.
Research has shown that animals also help children develop a strong sense of wonder, curiosity, and empathy.

Storybook Fun with Animals
Looking for sweet animal naptime or bedtime stories for your littlest ones? Here are two fun "bunny" classics:
Interactive and engaging, Pat the Bunny encourages little ones to explore and have some fun with Paul and Judy. Smell the flowers, look in the mirror, play peek-a-boo, and pet the bunny's soft fur.
Guess How Much I Love You is another sweet classic. Little Nut Brown Hare tries to tell Big Nut Brown Hare just how much he loves them. Just as Little Nut Brown Hare drifts off to sleep, Big Nut Brown Hare whispers with a smile, I love you right up to the moon and back.
Beaver Brook Story Walks
Beaver Brook Association continues to host family fun events outside as well as various story walks. Follow Beaver Brook on Facebook or check out their Events Calendar to stay up on their latest outdoor socially-distanced offerings.
Live in Milford and recently welcome a newborn to your family? Hopefully you've received your Welcome Baby gift at Town Hall which includes your very own copy of Guess How Much I Love You. (If not, REQUEST your complimentary gift today — we're happy to deliver yours)
Time to Come in Bear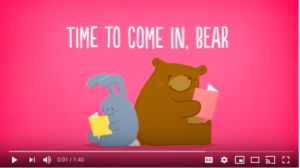 Sweet story from Bear and his friends that's developmentally appropriate for your preschoolers at this time of social distancing.
50 Best Kids' Songs Almost Any Parent Can Sing

Singing songs with your young children (and older!) is a great way to pass the time while also staying connected. This Fatherly blog features songs that don't require you to be a trained professional 🙂
Nursery Rhyme FUN
Nursery rhymes are a great way of helping your baby to know and learn language, too. These simplest of rhymes are fun for the littlest ones…and may bring back some good memories too!

Simple FUN for Toddlers
Ready for a roundup of some favorite (yet simple) things to do with toddlers? These activities focus on age-appropriate skills and interests for little ones. The key is letting the children lead the play while you watch and follow.