Milford Thrives envisions Milford to be a place where all community members — children,  youth, families and seniors — are healthy and feel connected.
Milford Thrives Community Connector service aims to connect parents and caregivers of young children with local resources, supports and services. We collaborate with local partners to connect folks to local resources, and/or bring our service providers from Greater Nashua to Milford.
Looking for a specific resource?  Wondering which service provider does what?  Have an idea for a gathering or educational event?
Qs?  Contact Milford Thrives Community Connector! 
Service Provider Spotlight
Waypoint recently launched a free Family Support Warm Line phone-in service. This support phone-in service has been established as a resource during this time of social distancing for parents and families.  Call to connect to professionals who can help with everything from coping strategies, child behaviors, family dynamics, household management and emotional distress … to gaining access to tools, resources, and services that can help navigate life during challenging times.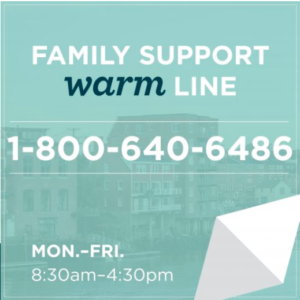 Looking for advice? 
Or just a trusted, nonjudgmental ear?
Either way, reach out — Waypoint is happy to be a resource! 
Thank you to Waypoint for offering this key family support service for families during this stressful time.
SHARE Outreach, located here in Milford, is a safety net in the truest form and there is no place, no agency like it.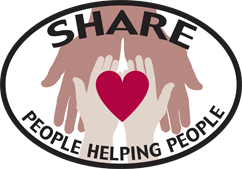 SHARE is a central point of assistance supported by a loving, giving community that believes everyone deserves a helping hand when in need.
If you are impacted by food shortage or have questions about financial assistance during this trying time of the Coronavirus, reach out to SHARE via phone:   603-673-9898
Milford Thrives is here for you during the COVID19 crisis as well.  Don't hesitate to reach out to us with your questions/concerns.  Also, refer to our Parenting Corner for updated COVID 19 resources.
Have you recently move into Milford with your family and baby/young children?  Milford Thrives Welcome Baby program was created to connect and welcome every newborn to the Milford community and to serve as a resource and community connector for parents, caregivers and families. 
REQUEST your complimentary Welcome Baby gift today!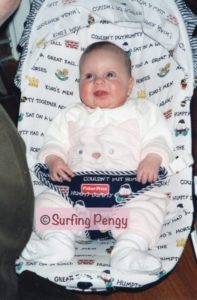 Trying to Figure Out Safe Childcare Options at this time of COVID-19?
The state of NH has adopted emergency childcare guidelines for providers during this time of COVID-19. Childcare Aware New Hampshire's website is updated regularly with detailed information for both families and childcare providers.
Do you have a question that's not addressed?  Feel free to reach out to Milford Thrives for help.
---
Interested in Head Start for your child?
Wondering if you're eligible?  Contact Southern New Hampshire Services to inquire: 603/668-8010, ext.6098.

---
Community Partners
---
We're so fortunate to have so many great community providers in Milford and the Greater Nashua area. Here is a list of community partners that work to support young children and families and our Milford community:
Boys & Girls Club of Souhegan Valley
Community Action for Safe Teens (CAST)
NH Department of Health & Human Services
Greater Nashua Smart Start Coalition
Milford SAU Child Find
Milford Lions
NH Department of Education's Office of Student Wellness
NH Department of Health and Human Services
Souhegan Valley Boys & Girls Club
Southern New Hampshire Services
Waypoint Family Resource Center of Greater Nashua
Women in Transition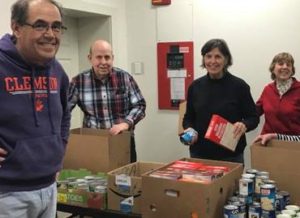 SHARE's volunteers restocking the food pantry
Milford Thrives Ambassadors
Thank you, too, to our Milford Thrives Ambassadors.  We look forward to our continued collaborations so that our Milford community can THRIVE!
Emily Aborn
Sara Amato-Larabee
Lauren Arruda
Melissa Blake
Jeanne Corcoran
Sylvie Kurtz
Hillary Paro
Kylee Ross
Cindy Walsh
Community Events
Milford Thrives collaborates with community partners to ensure the needs of our Milford community are being met. Whether hosting or co-hosting community gatherings, educational events, connecting folks to local resources or bringing our service providers from Greater Nashua to Milford, we aim to connect children, youth, families and seniors with the local resources, supports and services they're looking for.
Above, at the She Built This holiday event, Milford Thrives collected children's book donations for our community partner, SHARE.
Below, Children's Resiliency Retreat participants at the Boys & Girls Club of Souhegan Valley are excited to see Santa at Milford Thrives and community partner, CAST's Pajama Party, sponsored by Bangor Savings Bank.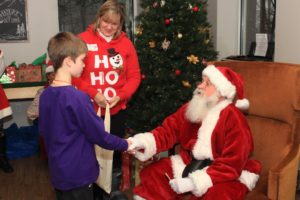 Thank you Bangor Savings Bank for your generous sponsorship of this fun community celebration!  And thank you Blueberry Hill Design Works for providing beautiful Milford Thrives bags for the children!
Interested in hosting a Pajama Party event?  Contact us.
Thank you to the members of She Built This for hosting Milford Thrives/SHARE's holiday book drive, too.  Your generosity was very much appreciated!
Have another idea for a community event?   Contact us.