Milford Thrives envisions Milford to be a place where all community members — children, youth, families and seniors — are healthy and feel connected.
Milford Thrives aims to connect you with the resources, programs and services available to families and young children in our Milford/Greater Nashua community.  We are so fortunate to have a broad range of community partners working together to support children, families and community members so they can thrive.
Looking for a specific resource? We're happy to help you find what you're looking for! Don't hesitate to contact 
Milford Thrives 
Community Connector
.  
---
SHARE Outreach, located here in Milford, is a safety net in the truest form and there is no place, no agency like it.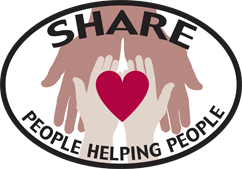 SHARE is a central point of assistance supported by a loving, giving community that believes everyone deserves a helping hand when in need.
If you are impacted by food shortage, need help with rent, or have questions about financial assistance during this trying time, reach out to SHARE via phone:   603-673-9898.
---
Waypoint Family Resource Center is located in Nashua but they host a number of events here in Milford and provide a number of really helpful resources for Milford families.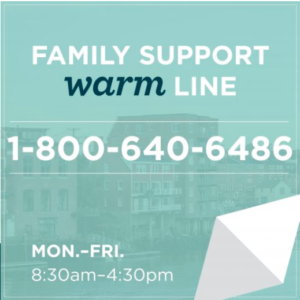 Waypoint's free Family Support Line phone-in service was established as a resource during the COVID-19 shutdown and is still available.  Call to connect to professionals who can help with everything from coping strategies, child behaviors, family dynamics, household management and emotional Thank you to Waypoint for offering this key family support service for families during this stressful time.
> Looking for advice? 
> Or just a trusted, nonjudgmental ear?
> Either way, reach out — Waypoint is happy to be a resource! 

Parent Connections & Education Classes:
Waypoint Family Resource Center organizes chances for parents to connect, as well as classes on child development and positive discipline.  Milford Thrives Parenting Corner will continue to keep you posted on the latest opportunities to connect with other parents, as well as Waypoint's latest class offerings.
---
Have you recently move into Milford with your family and baby/young children?  Milford Thrives Welcome Baby program was created to connect and welcome every newborn to the Milford community and to serve as a resource and community connector for parents, caregivers and families. 
REQUEST your complimentary Welcome Baby gift today!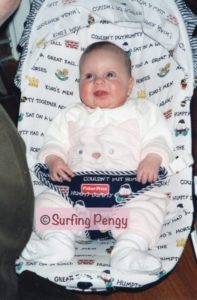 The Milford Thrives
Early Childhood Collaborative
The Milford Thrives Early Childhood Collaborative launched in September 2020. As a cross-sector coalition, we are committed to working together to ensure Milford is a place where families thrive and all young children grow up in a nurturing, supportive community and reach their fullest potential.   Collaborative members include representatives from the Milford school district, child and family-serving agencies, early childhood caregivers, healthcare providers, parents and other stakeholders.  See the full list of partners below.
Collaborative partners offer a wide range of resources and supports for families with young children.
Wondering what parenting and family resources are available in Milford?
Looking for updates on family-friendly activities and community events?
Trying to find the right child-care or preschool option?
Hoping to connect with other parents?
Interested in Developmental Screening for your chid?
We're happy to help you connect with the right partner resource. Reach out/contact us.  We're committed to working together to create a Milford Community where every child thrives!
---
?
New Parent Web — 

coming soon ?

The Milford Thrives Early Childhood Collaborative is in the process of conducting family interviews and focus groups to further develop this web resource.  Are there specific early childhood/family resources you're looking for?  Specific features you'd like to see (like searchable database; calendar of events; …)? Feel free to email us with your ideas and input!  

Stay tuned… the new "Parent Web" will be launched later this summer!

The new Milford Thrives Community Calendar will keep you updated on family-friendly events.  Meanwhile, follow our Facebook page and our Family Fun webpage for updates.
---
Trying to Figure Out Childcare Options?
Childcare Aware New Hampshire provides FREE and confidential referrals that are tailored to fit the needs of each individual family seeking child care.  Families can receive referrals by calling toll free at (855) 393-1731 or by visiting the Child Care Aware Quality Care Matters web page.
---
Interested in Head Start for your child?
Wondering if you're eligible?  Contact Southern New Hampshire Services to inquire: 603/668-8010, ext.6098.

---
Community Partners:
---
We're so fortunate to have so many great community providers in Milford and the Greater Nashua area. Here is a list of community partners that work to support young children and families and our Milford community:
Boys & Girls Club of Souhegan Valley
Bridges Domestic & Sexual Violence Support
Community Action for Safe Teens (CAST)
Greater Nashua Smart Start Coalition
SHARE Outreach
Southern New Hampshire Services
Waypoint Family Resource Center of Greater Nashua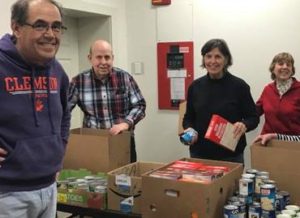 SHARE's volunteers restocking the food pantry
Community Events
Milford Thrives collaborates with community partners on a variety of community events. Whether hosting or co-hosting community gatherings, educational events, connecting folks to local resources or bringing our service providers from Greater Nashua to Milford, Milford Thrives aims to connect children, youth, families and seniors with the local resources, supports and services they're looking for.
Interested in hosting an upcoming Thrives event?  Or, do you have an idea for a community event?  Contact us.
Above, Milford Thrives was happy to join Jacques Memorial Elementary School for their Distribution Day.
Below, at the 2019 Children's Resiliency Retreat holiday party sponsored by Bangor Savings Bank, the children were excited to see Santa.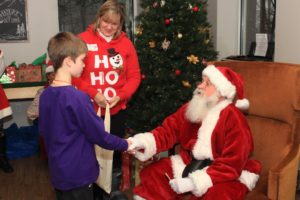 In 2020, the Children's Resiliency Retreat celebration was a bit different. Milford Thrives hosted a family hike and provided holiday gifts for the children to take home. Thank you Bangor Savings Bank for your  sponsorship and continued support!