At Milford Thrives, we envision Milford to be a place where:
*
families caring for young children feel supported, and
* young children are provided with strong early childhood foundations so they can be ready for schoo
l and thrive.
Milford Thrives Young Child & Parenting Facebook Page and website are designed to help you:
Stay up-to-date on Family Fun activities and family-friendly community events in Milford and Souhegan Valley;
Support your Child's Development and gain a better understanding of each age and stage of their growth;
Find parenting resources and opportunities to connect with other parents in our Parenting Corner;
Connect with local

child and family service providers and early childhood resources. Our

Community Resources

page helps you find what you're looking for.
You are your child's best teacher! Milford Thrives Parenting Corner provides parenting resources and opportunities to connect with other parents and caregivers, and subject experts.

Parenting Corner includes blogs, articles and videos like:
Establishing a rhythm to the day
What is it about a predictable, consistent rhythm that puts children at ease? A reliable daily flow of events provides children (and adults!) with a sense of predictability and creates a feeling of safety and security… read more in our Parenting Corner…
Young children learn by imitating
Infants learn social norms and how things work by watching you and their older siblings. Toddlers aim to do what you do, and strive to do what their older siblings do. Monkey See…Monkey Do…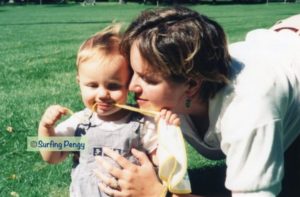 Parenting Corner also includes updates on opportunities to connect with other parents and caregivers in our area.
Discover more about Waypoint's newly launched, free Family Support Warm Line phone-in service…and current parent connection offerings.
The early years of a child's life are very important to their health and development. In fact, by age 3, a child's brain is already 80% the size of an adult brain! Milford Thrives Child Development page helps you learn more about healthy child development, and provides an overview of "typical" developmental milestones by age and stage fo each of the major developmental areas. The Milford Thrives Facebook page also provides tips on how to best support your child in each stage of development.
Visit the Child Development page to track your child's development month-by-month >>
Milford Thrives Early Childhood Collaborative

"We are committed to working together to ensure Milford is a place where families thrive and all young children grow up in a nurturing, supportive community and reach their fullest potential."
— Milford Thrives Early Childhood Collaborative
The Milford Thrives Early Childhood Collaborative is a cross-sector coalition of partners from the Milford school district, local child and family-service agencies, early care providers, healthcare providers, parents and community members.
Collaborative partners offer a wide range of resources and supports for families with young children. Follow the Milford Thrives Facebook page and this website for more information on the early childhood resources available. For a full list of early childhood Collaborative partners and more information on the resources that are offered, visit our Community Resources page.
Questions? Looking for a particular early childhood resource? Don't hesitate to reach out to us with your questions. We're happy to connect you.
Visit our Family Fun page for the latest updates on local family-fun activities.
Our FAMILY FUN page includes links to community events as well as fun age-appropriate in-home activities. For more timely updates on local events, be sure to follow our Facebook page, too. (Facebook content is also streamed here for your convenience >>).
🌼 New, revised Website — coming soon 🌼
Thank you to families who participated in our Milford parent/family surveys and focus groups. Based on your input, this website is being revamped to better serve Milford families with young children. Stay tuned… We will also be launching a Milford Kids & Families Thrive email service to keep you up-to-date on family fun events and local resources available. Feel free to provide us with your email address to be added. (You'll also be entered into our monthly Target gift card give away).
How do we support the development of self-regulation in a young child? Quiet activities and a break from screens can help them learn to calm down when angry or excited and persist during difficult times.
Our friends at Waypoint Family Resource Center are currently offering complimentary "Calm Down Boxes" created to help children learn to take quiet time and self-regulate. (Click on photo above for more details.
Milford families:

RESERVE
your complimentary calm box today>>
* Call Cindy (603) 518-4211
* Let her know if you'd like a box for 3-5-year old's or 6–11-year old's
* You can arrange to pick them up
Milford Thrives
offices across from Wadleigh Library.
Welcome Baby!
Have you recently move into Milford with your family and baby? REQUEST your complimentary Welcome Baby gift today!
Milford Thrives Welcome Baby program was created to connect and welcome every newborn to the community and to serve as a resource for parents, caregivers and families.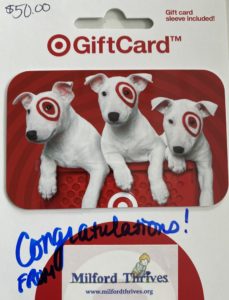 Milford Thrives hosts a monthly Target Gift Card giveaway for families with young children — enter for your chance to win today!