Welcome little one!
At Milford Thrives, we envision Milford to be a place where all young children grow up in a nurturing, supportive community. It is our pleasure to welcome every newborn to our Milford community and to serve as a resource for parents and families.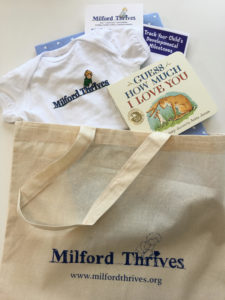 Milford Thrives has arranged for you to receive your complimentary Welcome Baby gift when you pick up your baby's birth certificate at Milford Town Hall.
If you haven't received a Welcome Baby gift, no worries! Maybe your baby's birth certificate was mailed to you? Maybe your baby was born before the program launched? Or maybe you recently moved to Milford with your infant or toddler (up to 2 years)?
Simply fill out the request form below >> we're happy to deliver your Welcome Baby gift to you!
Please deliver our free Welcome Baby gift: