At Milford Thrives, we envision Milford to be a place where:
* families caring for young children feel supported, and
* young children are provided with strong early childhood foundations so they can be ready for school and thrive.
Milford Thrives Young Child & Parenting Facebook Pageand website are designed to help you:
Find parenting resources and tips in our Parenting Corner— including timely tips on how to cope during the current COVID19 pandemic.
Connect with local

child and family service providers and early childhood resources. Our

Community Connector

service helps you find what you're looking for.
Stay up-to-date on age appropriate Family Fun activities and family-friendly community events in Milford and Souhegan Valley.
You are your child's best teacher! Milford Thrives Parenting Corner provides parenting resources and tips, along with opportunities to connect with other parents and caregivers, and subject experts.
Your young child loves to learn from you!
Parenting Cornerincludes blogs, articles and videos like:
Establishing a rhythm to the day
What is it about a predictable, consistent rhythm that puts children at ease? A reliable daily flow of events provides children (and adults!) with a sense of predictability and creates a feeling of safety and security… read more in our Parenting Corner…
Young children learn by imitating
Infants learn social norms and how things work by watching you and their older siblings. Toddlers aim to do what you do, and strive to do what their older siblings do. This is their play…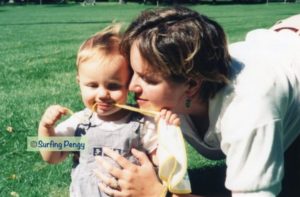 Parenting during Coronavirus
Parenting Corner also includes tips on how to cope during this time of social isolation, as well as links to local and NH-based resources for parents during this difficult time. Discover more about Waypoint's newly launched, free Family Support Warm Line phone-in service…
Visit Parenting Corner for more tips & resources >.
And follow us on Facebook for daily postings.
The early years of a child's life are very important to their health and development. Milford Thrives Child Development web page helps you learn more about developmental milestones and provides tips on how to best support your child in each stage of development.
Track your child's development month-by-month >>

Find additional information and articles on child development topics like:

How to help children learn to cope with their feelings.

How to support your toddler's motor skills

How to help your young child develop communications skills…

Visit the Child Development page to track your child's development and more
Share your input and enter
your chance to win!
Milford parents with young children: Share your ideas and enter your chance to win a $100 Amazon gift card!
As a Milford parent or caregiver of a child or children ages pre-birth to 6 years, you are invited to complete this anonymous survey which will improve the early childhood resources and services available for Milford families.
Visit our Family Fun page for the latest updates on family-fun activities with your young children at this time of social isolation.
Although in-person events in the community have been changed due to the Coronavirus, our FAMILY FUN page includes links to outdoor events as well as fun age-appropriate in-home activities, too.
Milford Thrives is happy to serve as a resource for parents and caregivers and connect them with local child and family service providers and resources. Milford Thrives also collaborates with local partners to host community gatherings, educational events, and bring early childhood service providers from Greater Nashua to Milford.
Don't hesitate to reach out to us with your questions/concerns.
Welcome Baby!
Have you recently move into Milford with your family and baby? REQUEST your complimentary Welcome Baby gift today!
Milford Thrives Welcome Baby program was created to connect and welcome every newborn to the community and to serve as a resource for parents, caregivers and families.
Parenting Questions?
Want to learn more about home visiting? Interested in hearing from local experts on child development?
Interested in starting Positive Parenting classes here in Milford and connecting with other parents?
Stay tuned to our Community Connector web page for weekly Provider Spotlights, and on our Facebook page for the latest offerings. Also, feel free to email or call us with your questions today, 603/836-4356.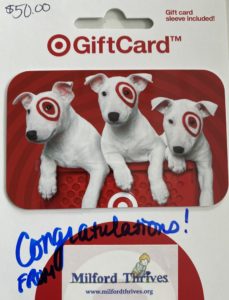 Milford Thrives hosts a monthly Target Gift Card giveaway — enter for your chance to win today!